I write descriptions for a reason - to explain what I am selling. So it always amazes me what people are thinking when they ask things like the following:
Hi Are you selling the entire blender or just the glass pitcher? Thanks
Here is the description:
Up for auction here is a Waring Pro WPB Series Blender. This is the Professional Bar Blender, Model # WPB09, in chrome. It has a glass pitcher and a powerful 2 speed motor. This item is BARELY used - maybe 3 times. It was a gift, and we have another, and we've only ever used it at the few parties we had need for 2 blenders. This is a great blender for crushed ice drinks, bartending, etc. Heavy duty, strong, and durable. Treat yourself to the quality of a professional grade bar blender! Since these retail for around $100, this is a great deal!
What part of any of that would imply that it's the pitcher only? I mean, the title is this:
Waring Pro Professional Bar Blender LN! Glass Pitcher
But all sellers specify parts of the auction in the title - it's not necessarily the title you're bidding on, you're supposed to read the description. Which, if you do that here, it's CLEAR that I'm selling the whole thing.
Not to mention here's the picture I've included with the auction: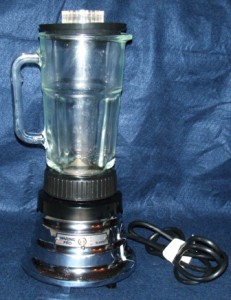 I just don't get people....isn't it obvious that the whole blender is up for auction???